I absolutely had to have this tank, even if it wasn't used in WW2. 950 parts are already a house number compared to the other COBI models. Of course, there is also a comparison with the Maus (Panzer VIII).
Manufacturer:
Cobi
Set-Number:
3036
Theme:
Military
Release:
2019
Parts:
950
Figures:
1
Dimensions:
Scale:
Age:
8
Building Time ca.:
3 Hours
0 used & new available from

(0 ratings)
Amazon Price: ---


Go to Amazon >
The development of an E-series began in 1942, which was to take into account the previous experience of the front troops. However, almost all of the designs did not go beyond the drawing board stage. Only the E-100 made it to a prototype of the hull. However, it was not a tank destroyer, but an armored car that was to be equipped with the Maus turret. There has never been an E100 as a tank destroyer and it only drives in World of Tanks.
Brick Quality
Apart from the stickers, which are unfortunately normal for the WoT models, there is nothing to complain about. Every brick fits perfectly and woe you have once installed. This is not a big problem with simple bricks, but anyone who has ever tried to separate larger plates knows what I am talking about. The clamping force is extremely good.
Instructions
The instructions for this model are divided into 4 construction phases. The individual construction steps are shown as usual. Everything that is already installed is grayed out, so finding the right place is no problem. Small add-on groups are often shown separately and only attached to the model in the finished state. Since this is not a WW2 tank, there is no trading card. After 129 construction steps, the imposing tank destroyer is completed.
Construction
Everything starts, as always, with the hull of the tank destroyer. After the first construction steps, this still looks rather unspectacular and only a little larger than other armored vehicles. However, this changes quickly when it has grown to its full size and the front apron has been attached far forward.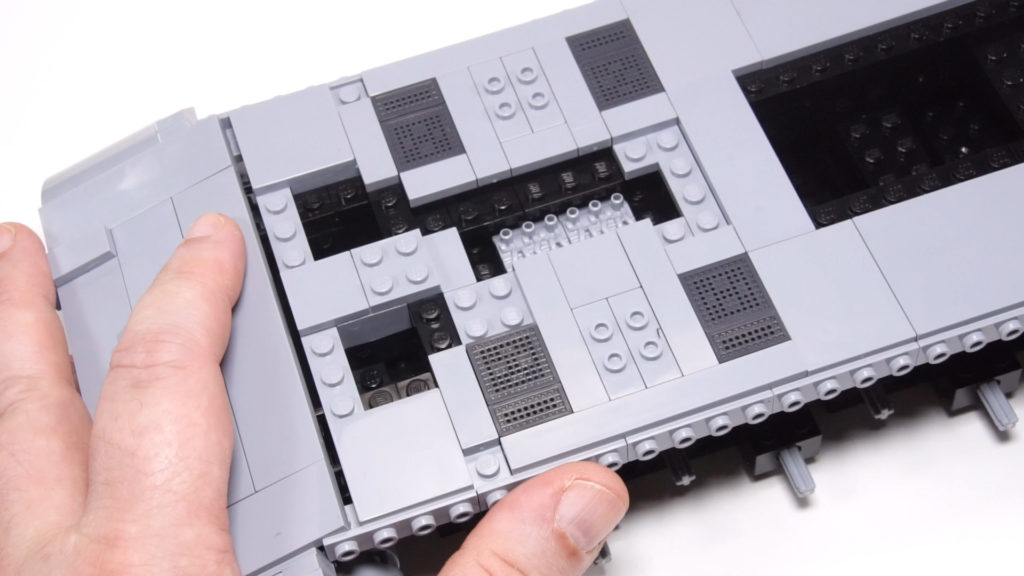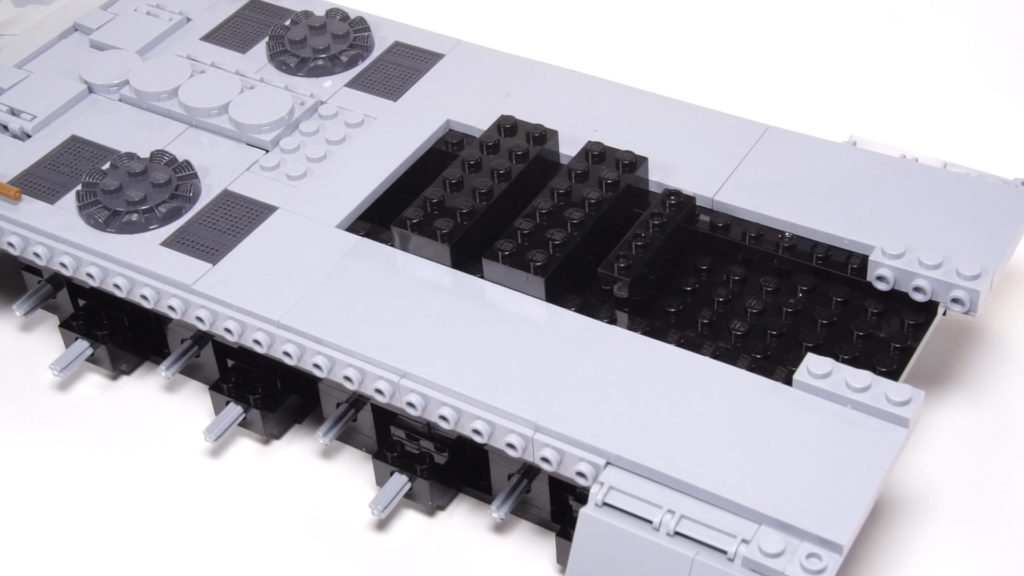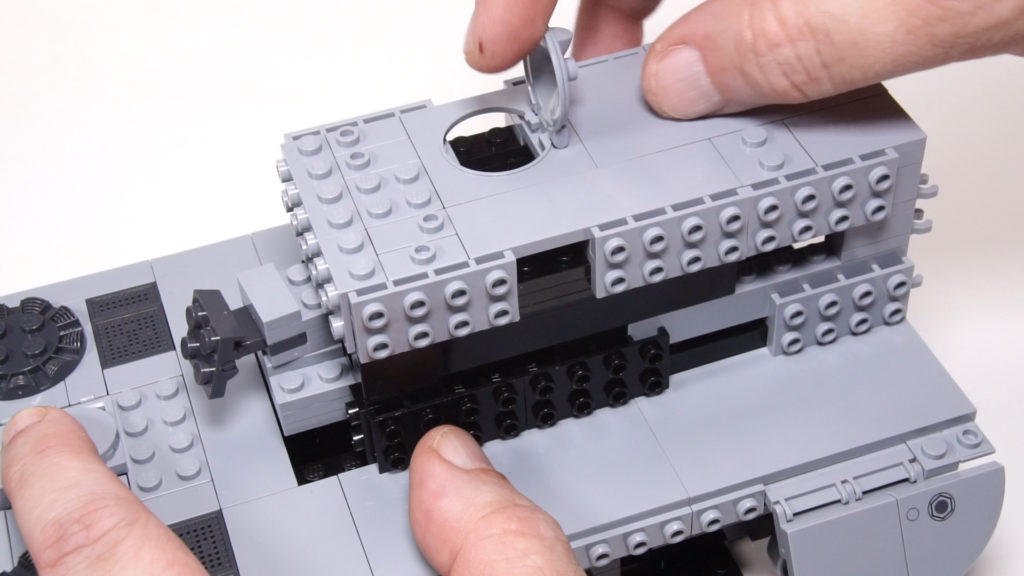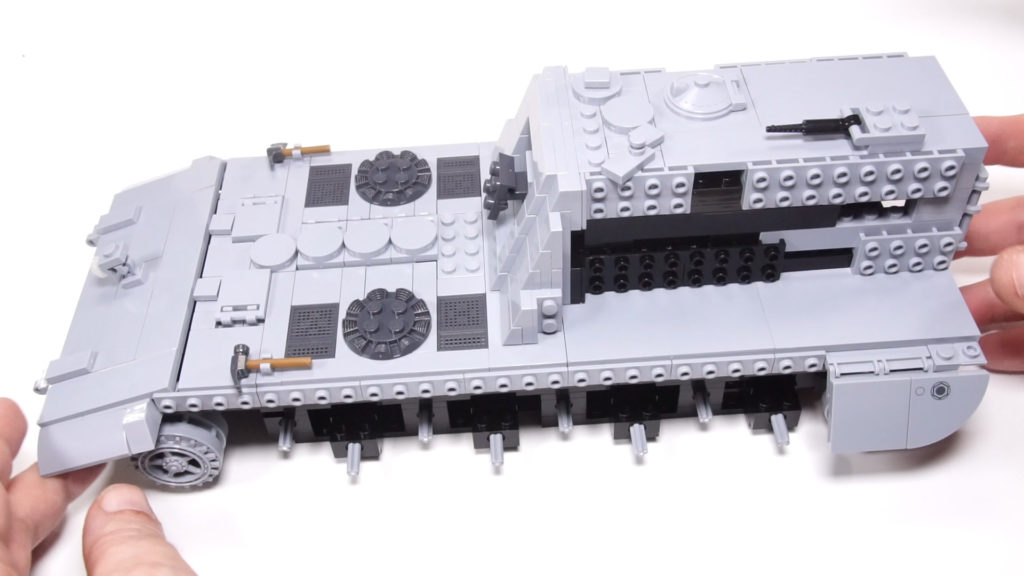 Due to the size and the flat front, there is plenty of space that must be covered with tiles. Instead of a large, smooth surface, we end up with a very detailed front. Several hatches for the crew and the machine and other details are installed. Even the tool still has to be put together and looks really classy on the sides by the hint of a wooden handle. As it is a tank destroyer without a turret, construction continues straight up.
The side armor in this model is made up of large, massive slopes that are firmly connected to the hull and cannot be folded. Most of the other COBI tanks were constructed with hinges or clamps. Before we turn to the castors, a rear apron is built and attached to the E100. The 16 castors are all identical, so you don't have to pay attention to the right direction or position. The wide tracks, which were also used for the Maus, cannot be inserted laterally because the side aprons cannot be folded down. So you put it on the back and push it through to the front. It would have been a bit easier if the side parts had been attached afterwards. But then I didn't want to lose weight again.
Finally, we take care of the gigantic gun, which is significantly larger than that of the Panzer VIII. The remaining tracks find their place in groups of two on both sides of the tank. A figure is also included. With its chic white uniform, it can be placed well on the upper entrance. I have no space for the toolbox and will probably just put it next to the tank. Or it comes in the rear hatches. There is enough space inside so I cannot lose the box.
Jagdpanzer E100 vs Tiger vs Panzer VIII Maus
With such a beautiful and above all large model, a comparison is of course also possible. If you place it next to the actually not so small tiger, the tiger looks more like a little gray mouse. So we compare it with the real Maus, the Panzerkampfwagen VIII. Overall, the Maus is only slightly larger. It is a few millimeters longer and the hull is slightly higher. For this, the E100 appears wider due to its massive side panel. The E100 is also ahead of the gun. Visually, both models are very nice and get a common place right next to each other.
Fazit:
Even if it is not a WW2 model, it belongs in my collection as well as the Panzer VIII Maus. After all, both of them made it to the prototype in whole or in part. With 950 building blocks, building fun can last longer than just 1-2 hours. At the moment it is still a bit difficult to get and only as advance notice in most shops. You can get it on eBay, but it is clearly too expensive. If you can wait a little longer, you can get it for around EUR 40 and later in offers. Anyone who had fun with the Panzer Maus will also love this model.
0 used & new available from

(0 ratings)
Amazon Price: ---


Go to Amazon >